Recombinant human / mouse / rat / porcine NT-3 protein (Qk058)
Recombinant human neurotrophin 3 (NT-3) protein is part of the NGF family of neurotrophic factors. NT-3 promotes differentiation and survival of specific neuronal subpopulations in both the central nervous system and peripheral nervous system.  This growth factor is essential in several protocols related to the survival and differentiation of nerve cells (peripheral neurons and sensory neurons) and glial cells (oligodendrocytes).
Recombinant human / mouse / rat / porcine NT-3 is a high purity, 27.3 kDa non-covalently linked homodimer. NT-3 (Qk058) is both animal-free (AOF) and carrier protein-free.
Summary
High purity human NT-3 protein (Uniprot: P20783)

27.3 kDa dimer, 13.7 kDa monomer

Animal-free (AOF) and carrier protein-free

Manufactured in Cambridge, UK

Lyophilized from acetonitrile/TFA

Resuspend in 10mM HCl (Reconstitution solution A) at >100 µg/ml, prepare single-use aliquots, add carrier protein if desired and store frozen at -20°C (short-term) or -80°C (long-term)
Featured applications
Peripheral neuron differentiation

Oligodendrocyte differentiation

iPSC-derived dorsal root ganglion organoids generation

Human cortical organoid maturation

iPSC-derived sensory neuron differentiation
NTF3, HDNF, NGF-2, NGF2, NT 3, NT3, neurotrophin 3, Nerve growth factor 2, Neurotrophic factor
Human
Mouse
Rat
Porcine (pig)
Bioactivity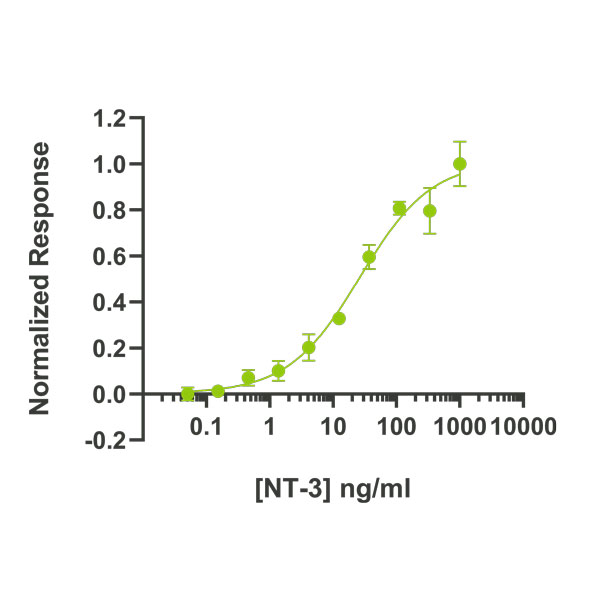 The bioactivity of NT-3 is measured using a luciferase reporter assay in HEK293T cells co-transfected with the TrkA receptor.
Cells are treated in triplicate with a serial dilution of NT-3 for 3 hours. Firefly luciferase activity is measured and normalized to the control Renilla luciferase activity.
EC50 = 23 ng/ml (0.84 nM), data from Qk058 lot #104407, n=3.
Purity
Human NT-3 (Qk058) migrates mainly as a single band at 13.7 kDa in non-reducing (NR) conditions and upon reduction (R).
Purified recombinant protein (3 µg) was resolved using 15% w/v SDS-PAGE in reduced (+β-mercaptoethanol, R) and non-reduced (-β-mercaptoethanol, NR) conditions and stained with Coomassie Brilliant Blue R-250. A faint band visible at 27.3 kDa in NR and R conditions, corresponds to the non-covalently linked NT-3 dimer. No contaminating bands are visible. Data from Qk058 batch #104407.
We are a company founded and run by scientists to provide a service and support innovation in stem cell biology and regenerative medicine.  All our products are exceptionally high purity, with complete characterisation and bioactivity analysis on every lot.
Protein background
Recombinant human NT-3 (also known as neurotrophin-3 / nerve growth factor-2 / NGF-2/ hippocampus-derived neurotrophic factor / HDNF) protein is a member of the NGF family of neurotrophic factors (also known as neurotrophins).
NT-3 is used in the neural stem cell field promoting differentiation and survival of specific neuronal subpopulations in both the central nervous system and peripheral nervous system [1]. This growth factor promotes the survival and differentiation of nerve cells (peripheral neurons [2,3], sensory neurons [4], and spinal motor neurons [5]) and glial cells (oligodendrocytes [6,7,8]). With its wide applications in the nervous system, NT-3 is used in human cortical organoid maturation [9]. It also has a role in endothelial survival [10] and the development of the cardiovascular system [11,12].
NT-3 is part of the cysteine knot family of growth factors that share high structural homology to nerve growth factor (NGF or β-NGF), brain-derived neurotrophic factor (BDNF), neurotrophin 4 (NT-4), and neurotrophin 5 (NT-5). NT3 is structurally characterized by the presence of six conserved cysteine residues that result in each protomer forming a twisted four-stranded beta-sheet, with three intertwined disulfide bonds. Bioactive NT-3 is a non-covalently linked 27.3 kDa homodimer of two 13.6 kDa monomers [13]. Human NT-3 cDNA encodes a 257 amino acid residue precursor protein with a signal peptide and a proprotein that is proteolytically processed to generate the 119 amino acid residue mature NT-3. The amino acid sequence of mature human NT-3 is identical to mouse, rat, and pig. NT-3 can activate two different classes of transmembrane receptors, the neurotrophin receptor p75 and the Trk tyrosine kinase receptors, binding to TrkC with the greatest affinity. In certain cell systems, NT-3 is also known to activate TrkA and TrkB kinase receptors [1].
1. Bibel, Miriam, and Yves-Alain Barde. "Neurotrophins: key regulators of cell fate and cell shape in the vertebrate nervous system." Genes & development 14.23: 2919-2937 (2000).
2. Li, Zongyi, et al. "Long-term corneal recovery by simultaneous delivery of hPSC-derived corneal endothelial precursors and nicotinamide." The Journal of clinical investigation 132.1 (2022).
3. Stebbins, Matthew J., et al. "Human pluripotent stem cell–derived brain pericyte–like cells induce blood-brain barrier properties." Science advances 5.3: eaau7375 (2019).
4. Schwartzentruber, Jeremy, et al. "Molecular and functional variation in iPSC-derived sensory neurons." Nature genetics 50.1: 54-61 (2018).
5. Goto, Kazuya, et al. "Simple derivation of spinal motor neurons from ESCs/iPSCs using sendai virus vectors." Molecular Therapy-Methods & Clinical Development 4: 115-125 (2017).
6. Kamata, Yasuhiro, et al. "A robust culture system to generate neural progenitors with gliogenic competence from clinically relevant induced pluripotent stem cells for treatment of spinal cord injury." Stem cells translational medicine 10.3: 398-413 (2021).
7. Yun, Wonjin, et al. "OCT4-induced oligodendrocyte progenitor cells promote remyelination and ameliorate disease." NPJ Regenerative medicine 7.1: 1-15 (2022).
8. Marton, Rebecca M., et al. "Differentiation and maturation of oligodendrocytes in human three-dimensional neural cultures." Nature neuroscience 22.3: 484-491 (2019).
9. Gordon, Aaron, et al. "Long-term maturation of human cortical organoids matches key early postnatal transitions." Nature neuroscience 24.3: 331-342 (2021).
10. Delgado, Ana C., et al. "Endothelial NT-3 delivered by vasculature and CSF promotes quiescence of subependymal neural stem cells through nitric oxide induction." Neuron 83.3: 572-585 (2014).
11. Chalazonitis, Alcmène. "Neurotrophin-3 as an essential signal for the developing nervous system." Molecular neurobiology 12.1: 39-53 (1996).
12. Caporali, Andrea, and Costanza Emanueli. "Cardiovascular actions of neurotrophins." Physiological reviews 89.1: 279-308 (2009).
13. Butte, Manish J., et al. "Crystal structure of neurotrophin-3 homodimer shows distinct regions are used to bind its receptors." Biochemistry 37.48):16846-16852 (1998).
Our products are for research use only and not for diagnostic or therapeutic use.  Products are not for resale.
Share your thoughts!
Let us know what you think...
Receive an Amazon gift voucher when you leave us a review.
£25 for reviews with an image and £10 for reviews without an image