Providing the highest-quality growth factors and cytokines
To support stem cell scientists, Qkine manufactures scalable, animal-free recombinant proteins with exceptional lot-to-lot consistency and bioactivity guaranteed.
We guarantee the bioactivity of all our proteins to be as bioactive or more bioactive than other major suppliers to ensure that your results are reliable and reproducible every time. We have stringent quality control procedures in place to provide you with highly pure proteins with exceptional bioactivity, providing you with outstanding performance in your cultures. We couple this with unrivaled lot-to-lot consistency, ensuring every single batch meets the same quality standards as all previous ones, thereby reducing the need for batch testing.
Purchase with confidence with our Bioactivity.

Guaranteed.
We are confident that the quality and bioactivity of our recombinant proteins will ensure that you achieve your research goals. However, if for any reason you experience an issue with your Qkine recombinant protein, please contact us immediately, and we will refund or replace your protein.

Our expert team of stem cell scientists and protein biochemists will then work with you to ensure you achieve your desired results.
At Qkine, we test and validate the biological activity of all our growth factors against other suppliers' proteins to ensure that we provide you with the highest level of biological activity.
Current industry standards require endotoxin levels in growth factor lots to be less than 0.5 EU/mL. However, the lower, the better, and Qkine imposes internal standards of <0.1 EU per µg protein.
We guarantee >98% purity due to limitations of the assays, but we are confident that the true result is higher. To ensure purity, we always run an overloaded gel with 7ug of protein to ensure that we can not visually detect any contaminants, aggregates, or degradants.
Excellent lot-to-lot consistency
All Qkine growth factors and cytokines have exceptional lot-to-lot consistency. Every batch is checked during a stringent QC process to ensure it has the same bioactivity as prior batches and to ensure reproducibility.
All Qkine proteins come lyophilized and the bioactivity is guaranteed for 2 years in lyophilized form. Once reconstituted, the bioactivity remains stable for 12 months in single-use aliquots reducing waste in your process.
All our recombinant proteins are animal-free because an animal-free manufacturing process guarantees reproducible proteins that are pure, bioactive, and free from endogenous contaminants.
High quality and pure IL-3
IL-3 technote
IL-3 improves the differentiation of myeloid cells due to its high reproducible bioactivity and purity.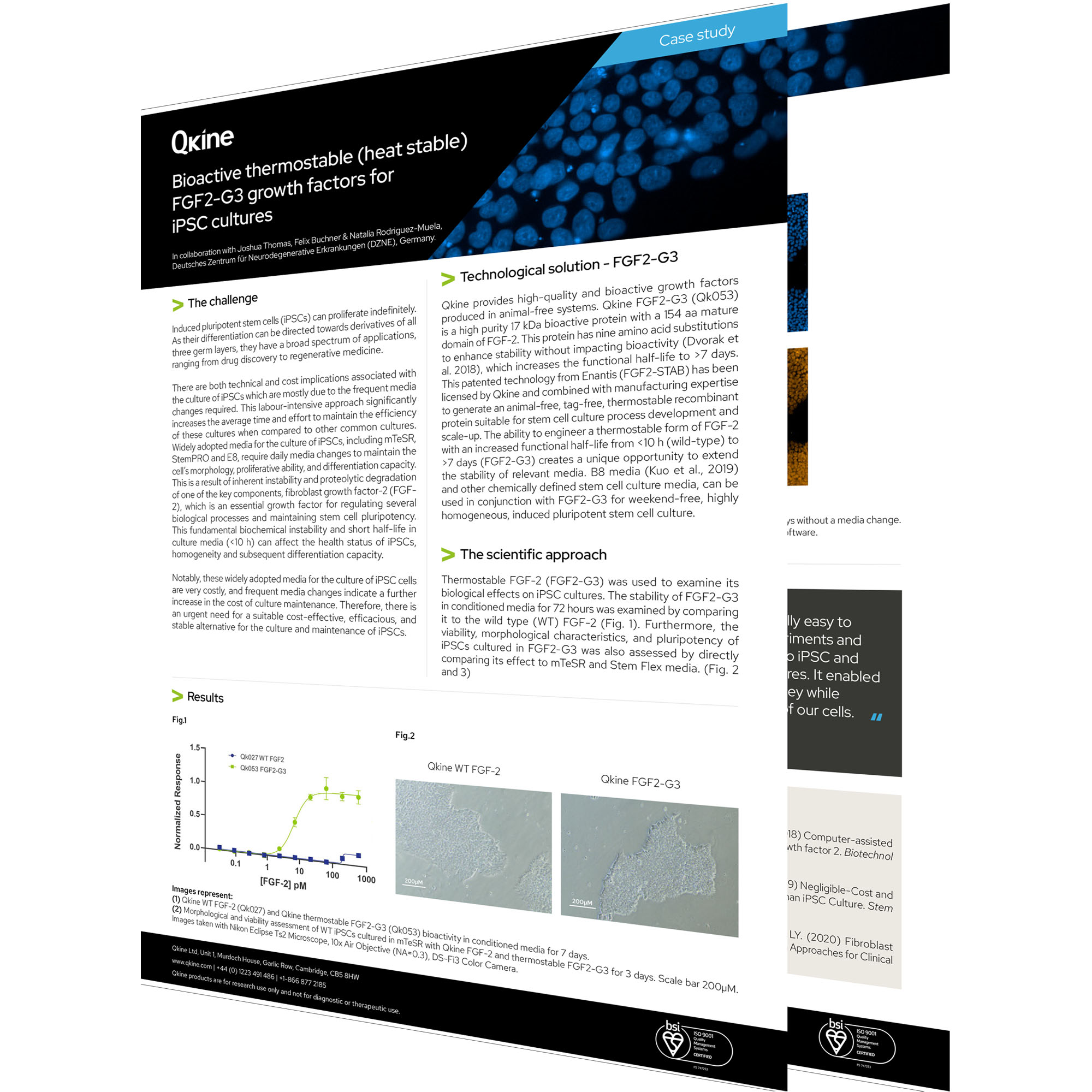 FGF2-G3 case study
Learn more about how FGF2-G3 can be used to reduce weekend media changes by downloading this case study.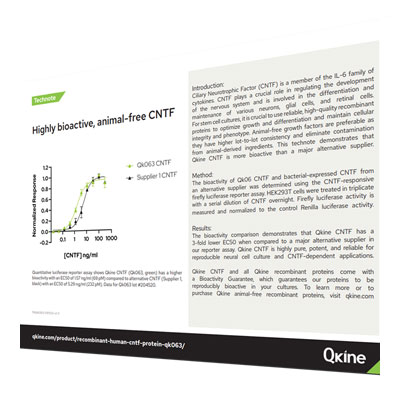 CNTF technote
Our reporter assay demonstrates a 3-fold lower EC50 compared to a major alternative supplier.
Highly bioactive & animal-free recombinant proteins

We are confident that the quality and bioactivity of our recombinant proteins will ensure that you achieve your research goals. Our dedicated team of stem cell specialists is available to answer any queries you may have and to give expert support when required.