Recombinant Human BMP-4 protein (Qk038)
Human BMP4 protein (bone morphogenetic protein 4) is a key regulator of embryogenesis and supports the differentiation of embryonic stem cells and induced pluripotent stem cells. In addition, BMP4 protein plays roles in the differentiation of mesenchymal cells to adipocytes, epithelial cancer EMT, and regulating neuronal and glial cell development.
Highly pure 26 kDa disulfide–linked bioactive dimer comprised of the mature domain of human BMP4 protein (animal-free and carrier protein-free).
Summary
>97%, by SDS-PAGE quantitative densitometry

Animal-free (AOF) and carrier protein-free.

Manufactured in our Cambridge, UK laboratories

Lyophilized from acetonitrile, TFA

Resuspend in 10mM HCl at >100 µg/ml, prepare single use aliquots, add carrier protein if desired and store frozen at -20°C or -80°C
Featured applications
iPSC and ESC maintenance and expansion
Bioactivity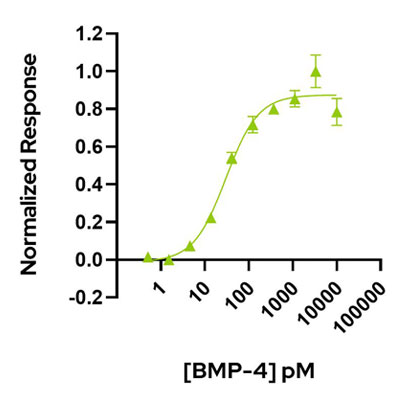 BMP-4 activity is determined using the BMP4-responsive firefly luciferase reporter assay in transfected HEK293T cells. Cells are treated in triplicate with a serial dilution of BMP4 for 6 hours. Firefly luciferase activity is measured and normalized to the control Renilla luciferase activity.
EC50 = 30.2 pM (0.72 ng/mL).
Data from Qk038 lot #104294.
Purity
BMP-4  protein (Qk038) dimer migrates as a single band at 24 kDa in non-reducing (NR) and 13 kDa as a single monomeric species upon reduction (R). High purity yield of dimeric protein (bioactive form).
Purified recombinant protein (3 μg) was resolved using 15% w/v SDS-PAGE in reduced (+β-mercaptoethanol, R) and non-reduced conditions (NR) and stained with Coomassie Brilliant Blue R250. Data from Qk038 lot #104294.
We are a company founded and run by scientists to provide a service and support innovation in stem cell biology and regenerative medicine.  All our products are exceptionally high purity, with complete characterisation and bioactivity analysis on every lot.
Protein background
Bone morphogenetic protein 4 (BMP4 protein) is part of the TGFβ superfamily of growth factors. BMP4 is a key regulator of embryogenesis with roles in gastrulation, establishment of a dorsal-ventral axis, and regulation of limb development (1).  As their name suggest the BMP family is involved in the development and maintenance of bone and cartilage; in adults BMP4 has roles bone and cartilage metabolism, as well as neurogenesis (2) and hematopoietic stem cell homing (3). BMP4 protein acts through two serine-threonine kinase receptors; Bone morphogenetic protein receptor (BMPR) 1 and BMPR2. Via these receptors BMP4 invokes Smad and map kinase pathways and consequently alters target gene transcription (4).
Our products are for research use only and not for diagnostic or therapeutic use.  Products are not for resale.
Receive an Amazon gift voucher when you leave us a review.
£25 for reviews with an image and £10 for reviews without an image