Bone morphogenetic protein 4 bioactivity
Introduction:
Human bone morphogenetic protein 4 (BMP-4) is a key regulator of embryogenesis and supports the differentiation of embryonic stem cells and induced pluripotent stem cells.
In addition, BMP-4 plays a role in the differentiation of mesenchymal cells to adipocytes, epithelial cancer EMT, and regulating neuronal and glial cell development.
Bone morphogenetic protein 4 has a complex biochemical structure. Special care and expertise is required to manufacture BMP-4 at high purity and with good lot consistency. Ensuring high bioactivity allows lower concentrations of growth factors to be used in media for cost-effective cell culture.
Method:
Bioactivity was determined using a BMP-4-responsive firefly luciferase reporter assay in stably transfected HEK293T cells. Cells were treated with a serial dilution of BMP-4 for 6 hours in triplicate. Firefly luciferase activity was measured and normalized to the control, Renilla luciferase.
Results:
Bioactivity comparison between leading suppliers shows Qk038 animal-free BMP-4 (expressed in E. coli) has a higher bioactivity than microbial and mammalian expressed BMP-4 from alternative suppliers.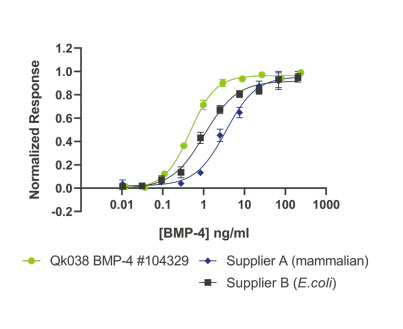 Qkine BMP-4 has higher bioactivity than alternative suppliers. Bioactivity of recombinant BMP-4 protein was determined by a luciferase assay. Qkine E. coli expressed BMP-4 (Qk038, green) has a higher bioactivity (EC50=19.4 pM) than alternative mammalian expressed (Supplier A, blue, EC50=133.5 pM) and E. coli expressed (Supplier B, grey, EC50=43.9 pM) BMP-4.