On Friday, 11th February, it's International Day of Women and Girls in Science 2022. To celebrate, I'd like to give a big shout-out to people of all genders who champion gender equality in science and inspire the next generations of scientists, thank you!
Here at Qkine, we are fortunate to have a gender-balanced Board and, at this moment, an entirely female team of talented scientists and businesswomen. It is a privilege to work with such an amazing and creative group of people, whose work is helping us contribute to improving reproducibility and developing new optimized growth factors to support stem cell science.
Happy International Day of Women and Girls in Science, please join us to celebrate on twitter @Qkinebio
Best regards,
Catherine (CEO and Founder)
free shipping
We now offer free worldwide shipping on all orders dispatched from our Cambridge headquarters. All Qkine orders are dispatched the same or next day and all our lyophilized products are sent in fully recyclable packaging.
We have also expanded our network of local distribution partners to make it as easy as possible to purchase Qkine growth factors wherever you are working. We have distributors in Germany, Austria, Switzerland, Poland, Nordic/Baltic regions, Italy, South Korea, Japan, China, Singapore and Australia. All our distributors are ready to support you and you'll always have access to our experienced technical team in Cambridge, UK.
the role of mechanical stimulation in stem cell differentiation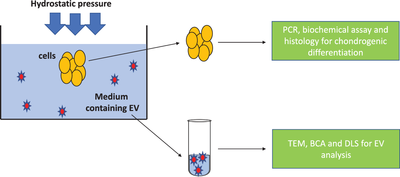 Luo et al., from the lab of Alicia El Haj at the University of Birmingham, has demonstrated the role of hydrostatic pressure in regulating chondrogenic differentiation and release of extracellular vesicles from hESCs and bone marrow stem cells.
Paper summary (Luo et al.):
Mechanical stimulation plays an important role in regulating stem cell differentiation and their release of extracellular vesicles (EVs). In this study, it is shown that low magnitute hydrostatic pressure (HP) can promote chondrogenic differentiation and microvesicle release from human embryonic stem cells (hESCs) and human bone marrow stem cells (hBMSCs) . Our study highlights the benefit of mechanical stimulation in promoting chondrogenesis and EV production for cartilage tissue engineering.
As a long-term culture system, organoids need reliable, high quality growth factors – any variation or imperfections in the media have more time to adversely affect the cells, leading to variability. Our R&D team are dedicated to solving organoid challenges with optimized forms and always animal-free. If you think something is missing from our range, please suggest a new protein.
Highlights of our organoid range include:
KGF (FGF-7) – a core component of many organoid media recipes, our KGF is animal-free, cost-effective and suitable for chemically defined media
Noggin – used in intestinal, pancreatic, lung and tumor-derived organoids. Both mouse and human Noggin are available.
BMP4 – our animal-free BMP4 has higher bioactivity than mammalian-expressed alternatives
The complete range of organoid growth factors, including animal-free R-spondin 1 and HGF NK1, and some helpful resources, are available here.
take a break from growing stem cells
Despite the recent cold weather, our sensitive mimosa pudica seeds are growing well. Mimosa pudica, like stem cells (and occasionally scientists) are sensitive and dynamic. In response to being tickled, Mimosa pudica will fold its leaves away. Unlike stem cells, mimosa plants can be grown quite easily without extensive optimisation of conditions. Take a break from growing cells and grow a mimosa with Qkine's #mymimosa growathon!
If you are already taking part let us know on twitter @qkinebio how your plants have weathered the winter. Why not upload a video if they are now touch sensitive. If you would like to join our lab #mymimosa growathon, and are based in the UK, please request a pack on our website.
sign up to hear about the latest in growth factor innovation, new products and cool stem cell science
We respect your time! You will receive update emails only when there is something important to say.  Our privacy policy is available here. You can unsubscribe at any time.