As another year ends, it's an opportunity to reflect on our progress towards setting new standards of growth factor reliability and innovation to better support stem cell scientists. It has been a successful year for the company, with our proteins integrated into novel industrial scalable organoid production protocols and, with valued collaborators, we are building a complete picture of the positive impact of thermostable FGF-2 on stem cell maintenance. Each year, we establish scientific focus themes. This year, our emerging theme was neural stem cells, and we are delighted at the feedback we've received on our new core neural growth factors (BDNF, GDNF, NT-3 and SHH) and in particular, VEGF 165, which is also >2-fold more active than the alternative supplier. We are also proud to have the opportunity to support a new lifETIME CDT PhD studentship with Aston University, exploring 3D biomaterial scaffolds to display neuro-developmental signalling factors to mimic brain architecture development. This extends our support for novel site-specific protein attachment research. Please reach out to the team if you would like to discuss our growth factors or collaborations proteins@qkine.com
Best regards,
Catherine (CEO and Founder)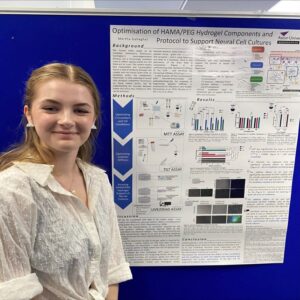 Designing biomimetic neural materials for scalable 3D cell culture
In conjunction with the LifETIME CDT program, Qkine has sponsored a PhD studentship based at Aston University. Martha's project will develop a 3D biomaterial scaffold that will display multiple neurodevelopmental signalling factors to mimic corticogenesis with induced pluripotent stem cell-derived neurons and glia.
Product spotlight – NT-3
NT-3 is a protein that is involved in the development and function of nerve cells in the brain. A member of the neurotrophin family of proteins, it plays a crucial role in the growth, survival, and differentiation of neurons. NT-3 from Qkine is highly bioactive and pure and compliments other growth factors from our neural stem cell range.
VEGF 165 for cost-effective cell culture
VEGF 165, also known as vascular endothelial growth factor A (VEGF-A), is a protein that is involved in the development of blood vessels. It is a member of the VEGF family of proteins, which play a crucial role in the growth and formation of new blood vessels. VEGF 165 from Qkine Qk048 is highly bioactive in comparison to alternative suppliers, meaning a lower concentration could potentially be used in your cultures, providing a cost-effective solution
Sign up to hear about the latest in growth factor innovation, new products and cool stem cell science
We respect your time! You will receive update emails only when there is something important to say.  Our privacy policy is available here. You can unsubscribe at any time.