Summer is drawing to a close and we're reflecting on what's been an exceptional summer both for Qkine and for stem cell science. In August, the stand-out scientific developments for us have been the leaps forward in complex organoid models, with impressive new papers from Magdalena Zernicka-Goetz's group, here in Cambridge, on synthetic embryos [1]; an elegant optimized intestinal organoid culture protocol from Clevers Lab [2], and the recent stunning pre-print from Zacharias Lung Lab, revealing a refined alveolar organoid structure [3]. In-house, our R&D and manufacturing teams have been busy and launched three superb new products: the start of our neural growth factor range, Shh and VEGF, and the long form of FGF-2 for porcine/bovine cell culture media optimization. With new collaborations, exciting R&D plans and the fit-out of our new facility underway, we're certainly looking forward to Autumn!
We'd love to hear your thoughts on the priorities for growth factor manufacturers and how we can best support stem cell science. Please email us at proteins@qkine.com.
Best regards,
Catherine (CEO and Founder)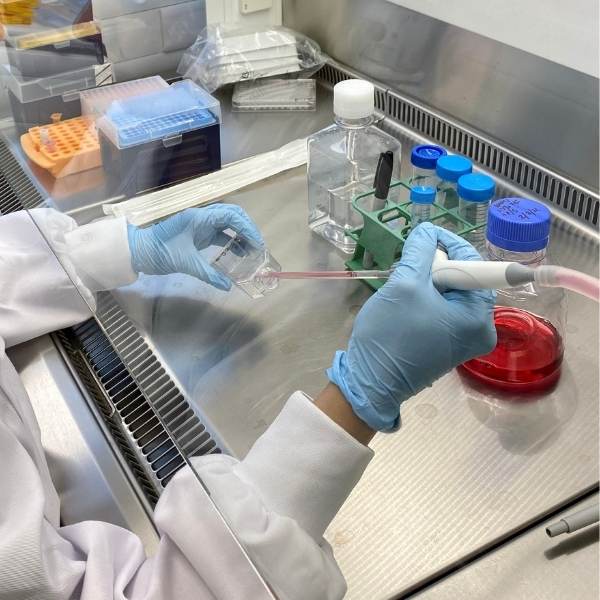 New lab promotion
Are you setting up a new lab? To make the process a little easier, we're offering a new lab start-up discount to make your budget go further. Please send us an email at proteins@qkine.com and we'll be in touch shortly to discuss this exclusive promotion.
Paper highlight of the month – generate human hepatocytes
A new method to generate human hepatocytes by forward programming has been recently described by one of our customers in Cambridge. This method overcomes the challenges which researchers face when using hepatocyte like cells, such as lacking the full repertoire of functionalities characterising primary hepatocytes. Click here to view our full range of growth factors for hepatocyte differentiation.
Organoid posters – free download
This month we have two downloadable posters with media recipe reference guides for pluripotent stem cell-derived organoids and adult stem cell-derived organoids. Each poster provides an overview of the main cytokines required and a reference paper for the recipe.
Download our adult adult stem cell-derived organoid poster
Sign up to hear about the latest in growth factor innovation, new products and cool stem cell science
We respect your time! You will receive update emails only when there is something important to say.  Our privacy policy is available here. You can unsubscribe at any time.