Last week I was asked to suggest the most pressing challenge for scientists industrialising the growth of cells, particularly stem cells. A step-change in scale will be essential in the next decade to deliver the promise of new cell therapies and facilitate widespread adoption, and indeed to tackle the monumental hurdles presented by the scale-up of cultivated meat and the nascent cellular agriculture field. What a great question! Will this core challenge be addressed by new bioreactor technologies, data analytics and process control to ensure homogeneity of cell products, or, being a growth factor company, is addressing protein stability and formulation issues critical? However, perhaps biased by on-going discussions at Qkine, I think reproducibility during scale-up will be the crux of it.
Undoubtedly, there will also be pivotal scientific discoveries and cell engineering advances that we can't foresee and a big thanks goes to those of you working on these as we speak. I'll post this on our Linkedin page as I'm keen to hear your opinions.
Best regards,
Catherine (CEO and Founder)
Growth factor quality is not just purity
When selecting a new growth factor for your research, the quality of the protein is likely to be a consideration. Most suppliers quote purities of >95% or 99% on their data sheet, however, how do you define purity for structurally complex proteins that must be correctly folded, and sometimes multimeric, to be fully bioactive? SDS-PAGE alone doesn't tell the full story.
Read this article by the Qkine founder, Dr Marko Hyvönen, which discusses why quality isn't all about purity.
The purity of Activin A by Qkine was compared with Activin A from alternative suppliers by SDS-PAGE.
BMP-4 has a complex biochemical structure. Special care and expertise is required to manufacture BMP-4 at high purity and with good lot consistency. Ensuring high bioactivity allows lower concentrations of growth factors to be used in media for cost-effective cell culture. To see how the bioactivity of animal-free BMP-4 from Qkine compares with alternative suppliers, please read our BMP-4 technote.
Qkine are committed to exceeding customer expectations by providing an exceptional service and high-quality products. If you have purchased from us, please give us some feedback on your experience. You can submit this either directly to us on twitter (@Qkinebio), via any of our product pages or on our contact us page on our website.
To thank you for your time, you will receive a Mimosa pudica plant pack containing everything you need to grow your own touch sensitive plant. All the packaging for our Mimosa plant can be fully recycled – it's the same packaging we use on our products too. So click the contact us page, leave your feedback and start growing your own Mimosa plant.
Best supplier is @QkineBio. Cambridge Uni startup that supplies LIF to many stem cell labs there, including Austin Smith's before move. I think the initial reagents all from Austin. We've tested batches in London & it's excellent. Other good cytokines too (they don't pay me!)

— Harry Leitch (@HGLeitch) October 5, 2021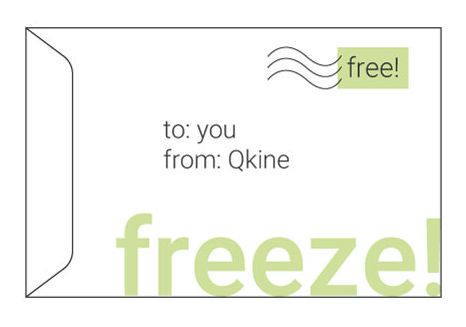 We now offer free worldwide shipping on all orders dispatched from our Cambridge headquarters. All Qkine orders are dispatched the same or next day and all our lyophilized products are sent in fully recyclable packaging.
We have expanded our network of local distribution partners to make it as easy as possible to purchase Qkine growth factors wherever you are working. Please visit our distributor page for a full list.
sign up to hear about the latest in growth factor innovation, new products and cool stem cell science
We respect your time! You will receive update emails only when there is something important to say.  Our privacy policy is available here. You can unsubscribe at any time.