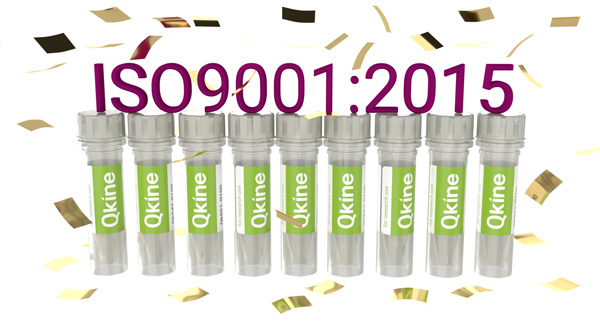 Qkine is delighted to achieve ISO9001: 2015 certification, an internationally recognized standard that confirms our commitment to exceptional product quality, customer service and scientific support
Ms Jennifer Jeffreys, Scientific Operation Manager, commented on the team's achievement:

"Achieving this certification confirms our commitment to a consistently high standard of quality in all areas of Qkine and ensures that our customers, employees and stakeholders can be confident in our products and services. The team's tremendous effort during the implementation process, and dedication to continuous improvement, has enhanced new product development and efficiency across our operations."
Quality and reliability are essential in the stem cell science supply chain
Qkine manufactures essential protein reagents for the stem cell, organoid and regenerative medicine sector at its Cambridge, UK facility. As a supplier to this intensely innovative industry, maintaining high product quality and standards of scientific support is often crucial to the success of the customer's business processes and experimental outcomes.
Dr Catherine Elton, CEO, added:
"Alongside our core growth factor proteins, Qkine is developing unique protein tools to help scientists at the forefront of stem cell biology and in emerging sectors such as cellular agriculture (cultured meat). In this fast-moving industry, we felt that combining the rigour of a formal QMS with the academic innovation at the heart of our company would allow us to provide the best possible solutions for our customers."
ISO9001: 2015 certification gives confidence to global customers
Qkine has implemented an ISO9001: 2015 compliant quality management system encompassing its entire R&D, manufacturing, and operations functions. Embedding this internationally recognized standard demonstrates a commitment to consistently meet and exceed customer expectations and applicable statutory and regulatory requirements. UKAS accredited BSI, respected globally, was selected to certify the quality management system giving enhanced confidence in the assessment of best practice.