Qkine is a Cofinitive #21toWatch Top21.2023 winner!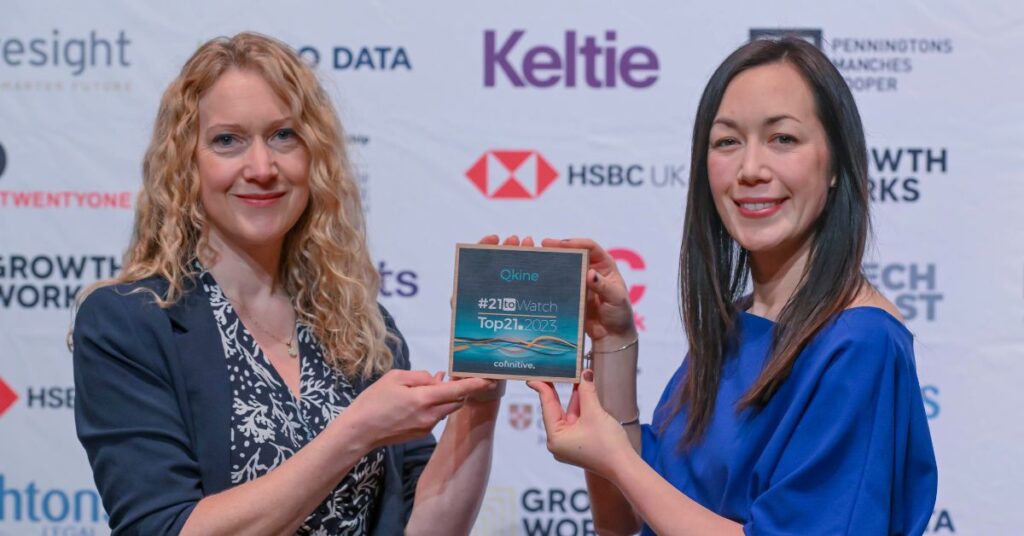 We are excited to have been recognised in this year's Cofinitive #21toWatch awards.
This award recognises the People, Companies, and 'Things' that are setting the standards in innovation and entrepreneurship across the Cambridge, UK ecosystem.
In an enjoyable event with a superb audience of entrepreneurs, investors and representatives from the business community, we had the pleasure of accepting the specially designed sustainable plaque and meeting other winners. You can watch the moment Head of Marketing, Alison Rawlinson, accepted the award in the video above.
Dr Catherine Elton, CEO of Qkine commented "We are grateful to Cofinitive and the judges for recognising Qkine as a 21toWatch company, the whole team have worked exceptionally hard over the last year to scale and establish our new HQ and manufacturing facility here in Cambridge. We are pleased to be a growing UK manufacturer supporting our stem cell scientist customers in over 28 countries. I couldn't be prouder of the team and what we've achieved so far. "
Cofinitive's founder Faye Holland said: "We are delighted that Qkine has been named in our Top21.2023 winner #21toWatch list, the accolade is well deserved, and we look forward to following their progress.
Over the past 12 months, we've continued to collate hundreds of submissions in response to our #21toWatch campaign and the criteria we set was pretty tough: each submission, whether it was a company, individual or 'thing' that they create, had to demonstrate a set of attributes: Innovation; Challenge; Influence; Viability; and Memorability. Our independent judges all agreed that all our winners have the potential for huge impact on a personal, company or product basis".
To find out more about the #21toWatch campaign visit www.cofinitive.com/21towatch