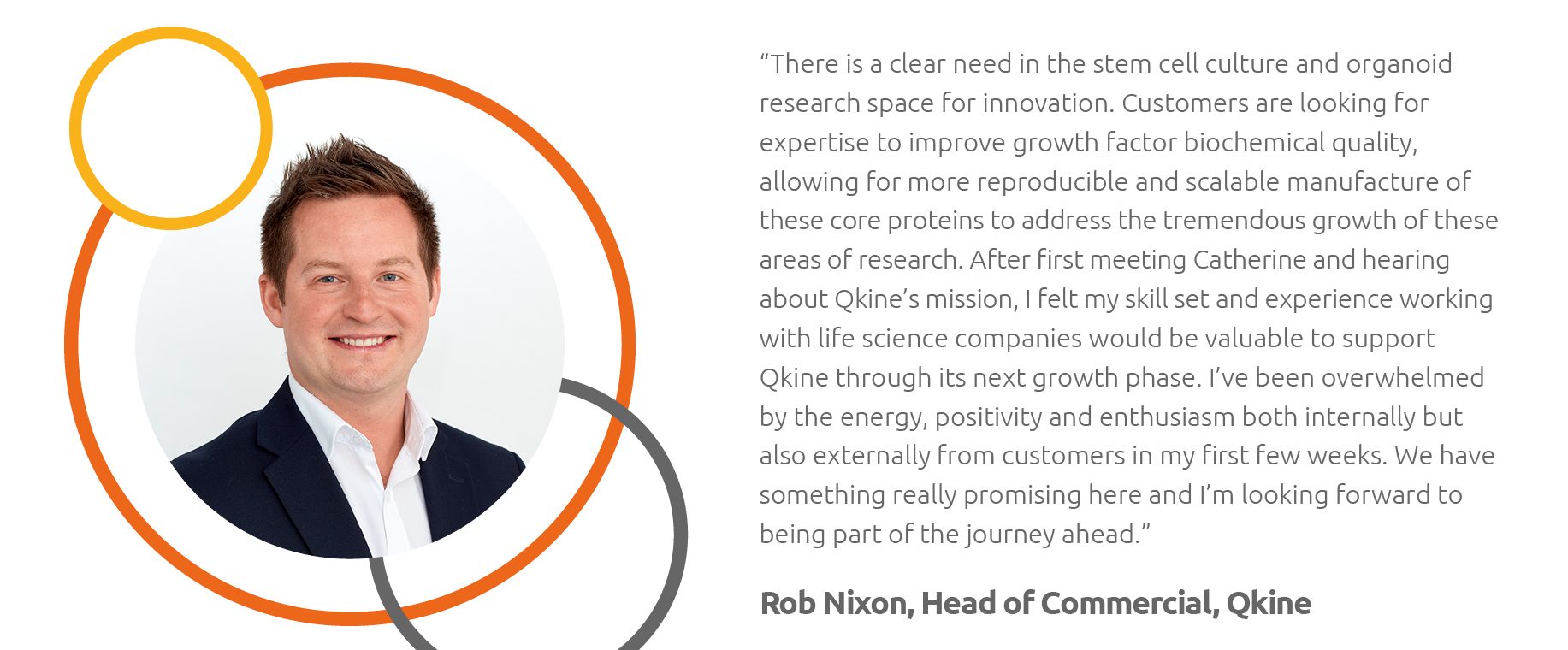 Cambridge, UK 21 July 2020: Qkine – a specialist developer and manufacturer of proteins for stem cell, organoid and regenerative medicine applications – is delighted to announce the appointment of Rob Nixon to its management team as Head of Commercial and Dr Cassie Doherty, Investment Director at Parkwalk, to its board. With years of experience working with fast-growing biotechs and life science reagent suppliers, these appointments will be key to supporting the scale-up of Qkine's commercial operations globally and expansion of its product development pipeline.
Rob Nixon joins Qkine as Head of Commercial to implement the scale-up of its commercial strategy globally, whilst building and leading Qkine's growing commercial team. Rob brings extensive commercial experience in the life science sector to the management team, having worked for both world-leading global life science reagent companies Merck Millipore and GE Healthcare Life Science, as well as emerging, fast-growing start-up Jellagen. His experience in building and coaching highly successful sales teams, implementing go-to-market strategies and developing global distributor networks across the stem cell, organoid and regenerative medicine markets will accelerate the expansion of Qkine's commercial operations across both existing and new markets.
Rob Nixon, Head of Commercial, Qkine said: "There is a clear need in the stem cell culture and organoid research space for innovation. Customers are looking for expertise to improve growth factor biochemical quality, allowing for more reproducible and scalable manufacture of these core proteins to address the tremendous growth of these areas of research. After first meeting Catherine and hearing about Qkine's mission, I felt my skill set and experience working with life science companies would be valuable to support Qkine through its next growth phase. I've been overwhelmed by the energy, positivity and enthusiasm both internally but also externally from customers in my first few weeks. We have something really promising here and I'm looking forward to being part of the journey ahead."
Dr Cassie Doherty is welcomed to the Qkine Board as Non-Executive Director following its £1.5m series A investment round in June this year, which was led by Parkwalk. Her background in biochemistry and molecular biology, combined with over 10 years of extensive experience in life science investment, will be key to Qkine moving forwards, as will her active style when it comes to supporting portfolio companies, advising on strategy, technical and commercial plans as Qkine continues to scale. To date, companies Cassie has worked with have cumulatively raised over £50m in investment and she has been involved in many M&A and licensing deals.
Dr Cassie Doherty, Investment Director, Parkwalk commented on her appointment: "I'm very pleased to join the Qkine Board and look forward to working with Catherine, Rob and the rest of the team to support the company's growth at this exciting time. Qkine's products fill a market need for high-quality protein reagents and clearly address problems that I have seen in companies working in the regenerative medicine, organoid and stem cell space."
Dr Catherine Elton, CEO and Co-Founder, Qkine added: "We are delighted to welcome Rob and Cassie to Qkine as we embark on the next phase of our growth. Rob's experience and leadership will help us build the commercial infrastructure to support stem cell labs worldwide. Cassie is already a valued advisor and welcoming her to our board gives us both the benefit of her extensive knowledge of the sector and an ideal gender-balanced board. As a company, we actively support and champion women in STEM, both within our organisation and across the industry, so it is important for us to lead by example."
For more information about Qkine's Leadership Team, please visit: https://qkine.com/team