Qkine officially opens new HQ and expanded manufacturing facility in Cambridge
Qkine is delighted to open its new Cambridge, UK, headquarters at Murdoch House. The state-of-the-art biomanufacturing and R&D facility will form a hub for collaboration and innovation to facilitate the growing needs of Qkine customers.
Cambridge, UK, 28th April 2023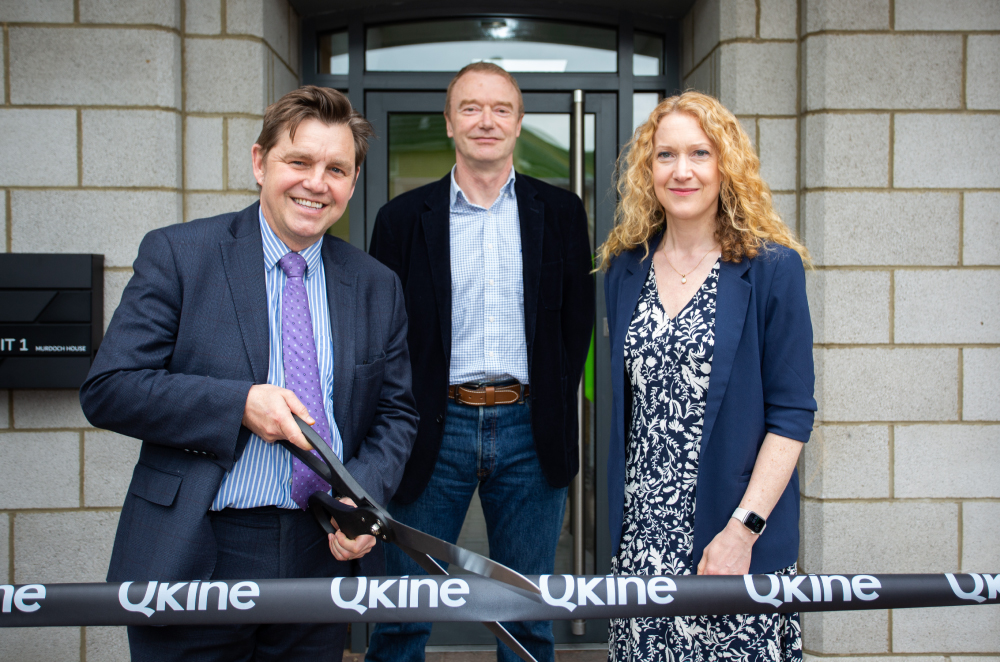 Qkine welcomed Mayor Dr. Johnson, the Mayor of Cambridgeshire and Peterborough, to officially open the new facility, alongside the team, customers, investors, and representatives from the Cambridge ecosystem who have supported Qkine as it has grown. After cutting the ribbon, guests celebrated with afternoon tea, lively conversation, and facility tours.
The expanded manufacturing capacity will allow Qkine to keep pace with increasing global demand for high-purity bioactive proteins from the stem cell and 3D cell culture sectors, and nascent industries such as cultivated meat. The new clean-room facilities and further quality assurance assays scheduled for introduction later this year will allow Qkine to provide higher compliance growth factors to meet the needs of customers serving the stem cell therapy and regenerative medicine markets.
Supporting the health and well-being of the team is important to help meet the company's growth ambitions, and the central Cambridge location of the new HQ is an idyllic location backing onto the river Cam and easily accessible for all staff via cycling or public transport.
Dr Catherine Elton, CEO of Qkine, commented:
"We are delighted to open our new HQ, which will allow us to scale our manufacturing and commercial activities at least ten-fold over the next few years. Our success and expansion are a testament to the dedicated team we've assembled at Qkine along with our investors and members of the wider Cambridge community who have joined our journey. Biomanufacturing has huge potential for UK PLC and has an important role in helping meet global sustainability challenges. At Qkine, we are proud to be addressing the innovation gap in bioactive protein manufacturing and improving the reproducibility of scientific outcomes to reduce waste in fundamental stem cell and organoid research and support the scale-up of stem cell manufacturing processes.
We know that many of our customers have faced supply chain issues in the last couple of years, and we hope that by establishing a credible UK-based supply chain for these critical reagents we can help drive the success of our customers both in the UK and worldwide. "
Mayor Dr. Johnson commented:
"Manufacturing plays a major role in our economy and in society as whole, providing over 2.5 million jobs nationally and making a real and valuable contribution to our lives. It is wonderful to see this new facility opening in Cambridge, a city well known for scientific excellence. The work Qkine do in stem cell and organoid research is very extremely exciting, not to mention the work they are doing in emerging fields such as regenerative medicine, and I look forward to hearing more about their innovations in the life sciences as manufacturing begins taking place in the city."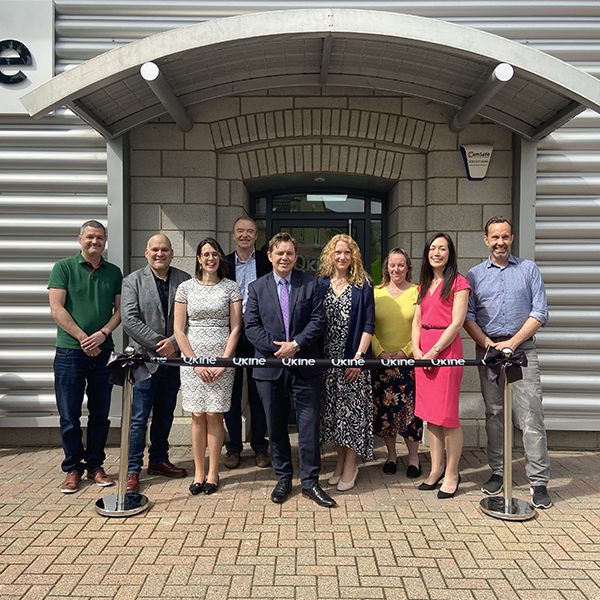 About Qkine
Qkine manufactures high-purity, animal-free growth factors, cytokines and other complex proteins for life science applications including stem cell and organoid culture. Based in Cambridge, UK, Qkine combines proprietary production processes with protein engineering technology to tackle fundamental biological, quality, and scale-up challenges. Our goal is to provide the highest purity, bioactive proteins for research and bio-manufacturing to best support our customers and maximize the impact of their science.
As leaders in protein innovation, approximately 30% of our catalogue is formed of unique products. We have developed a portfolio of stable, tag-free growth factors for use in the most popular pluripotency media recipes, and we provide pioneering growth factor forms for scaling organoid cultures. Our product range spans a wide range of applications including hepatocyte, cardiac and neural differentiation, all aimed at increasing reproducibility in your research. We actively support and innovate for emerging fields such as cellular agriculture, regenerative medicine, synthetic hydrogels, organ-on-a-chip, and bioprinting.
Qkine is an ISO9001: 2015 certified company with an established global distribution network. With a robust manufacturing process, we can support scale-up and commercial manufacturing by offering lot reservations, bulk orders, custom vialling, and custom QA. Please visit qkine.com for more information, contact the Qkine team at info@qkine.com or follow us on LinkedIn for the latest company updates.