New phase of growth as Qkine relocates into state-of-the-art facility
A Q&A with Dr. Andy Day, Head of Product Development and Manufacture at Qkine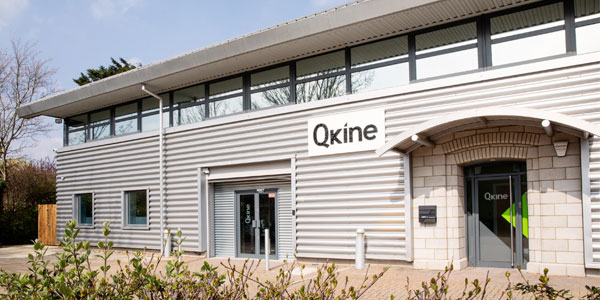 Qkine is entering the next phase of commercial growth, having secured the lease on 1 Murdoch House, based in Cambridge city centre, last year. The new premises will facilitate an expanding R&D programme and increased manufacturing capacity to meet the needs of Qkine's growing customer base. The building has been transformed into modern agile lab and office spaces for research and process development, plus a dedicated, beta-lactam-free state-of-the-art manufacturing suite.
With Qkine starting manufacturing at their new site, Andy Day, Head of Product Development and Manufacture at Qkine, answered some key questions about the new premises.
Why are you excited to move into the new building?
"Qkine is going through an exciting period of growth as a company. Moving to Murdoch House allows the lab to grow alongside the business, enabling it to build on the strong foundations we have already put in place. We have more than doubled the size of the lab team which includes R&D, manufacturing, and cell culture."
How will the new building help achieve the goals of Qkine?
"The move to a larger facility will permit Qkine to continue producing high purity animal-free growth factors, whilst also allowing the lab to scale-up, meeting a sustained increase in demand. The new building will give additional lab space, which will be used to introduce further industry-leading manufacture techniques, such as bioprocessing, as well as enabling the introduction of additional quality control tests to further demonstrate the excellence of our products. Parts of this will include the introduction and testing of both Human Induced Pluripotent Stem cells (hiPSCs) and Organoids within our new facility, with the aim of producing in-house application data for every growth factor within our catalogue."
How have you considered sustainability as part of the build?
"Sustainability is part of our principles and taking into consideration the UN sustainable development goals (SDGs) has helped to guide us through the process. The relocation and expansion of our manufacturing facility will allow our proteins to be produced more efficiently. Having the ability to increase the scale of our proprietary manufacturing processes will result in an increase in production efficiency, leading to an overall reduction in energy and raw material requirements."
How will this affect your customers?
"Positively, we hope! Alongside larger lab spaces, we have also increased our warehousing space which allows us to hold larger stocks and create a more efficient shipping method. We know our customers are facing huge supply chain issues post-BREXIT and Covid-19, so we aim to provide our customers with exceptional service and quick delivery, so that they can advance with their research."
Head of Product Development and Manufacture at Qkine
Andy is a molecular and cell biologist with over 20 years of experience in product development and manufacturing. He joined Qkine in 2022 to expand both Manufacturing and Product Development capabilities within the company to ensure the continuous supply of high-quality reagents to customers.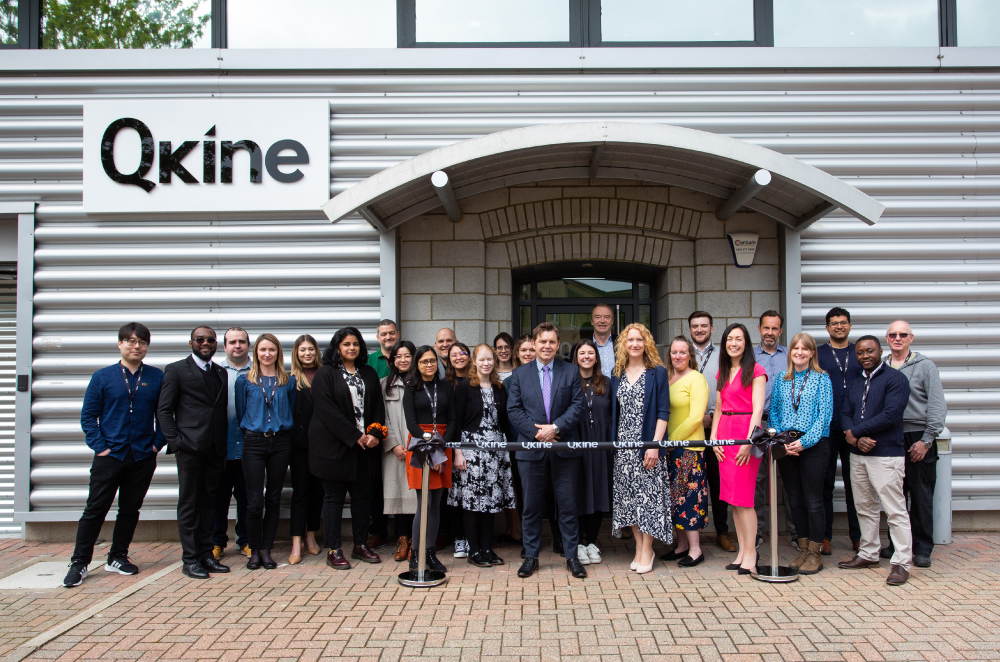 The new premises are set to have a positive impact on the health and well-being of Qkine employees. The new building provides the tools required for flexible working such as breakout rooms and state-of-the-art conferencing equipment.
The location was selected as it backs directly onto a Cambridge common, allowing staff green areas to walk or run, with many shops, and amenities close by.
Qkine aims to empower science to create the technologies of the future by creating the highest quality and most innovative bioactive proteins.